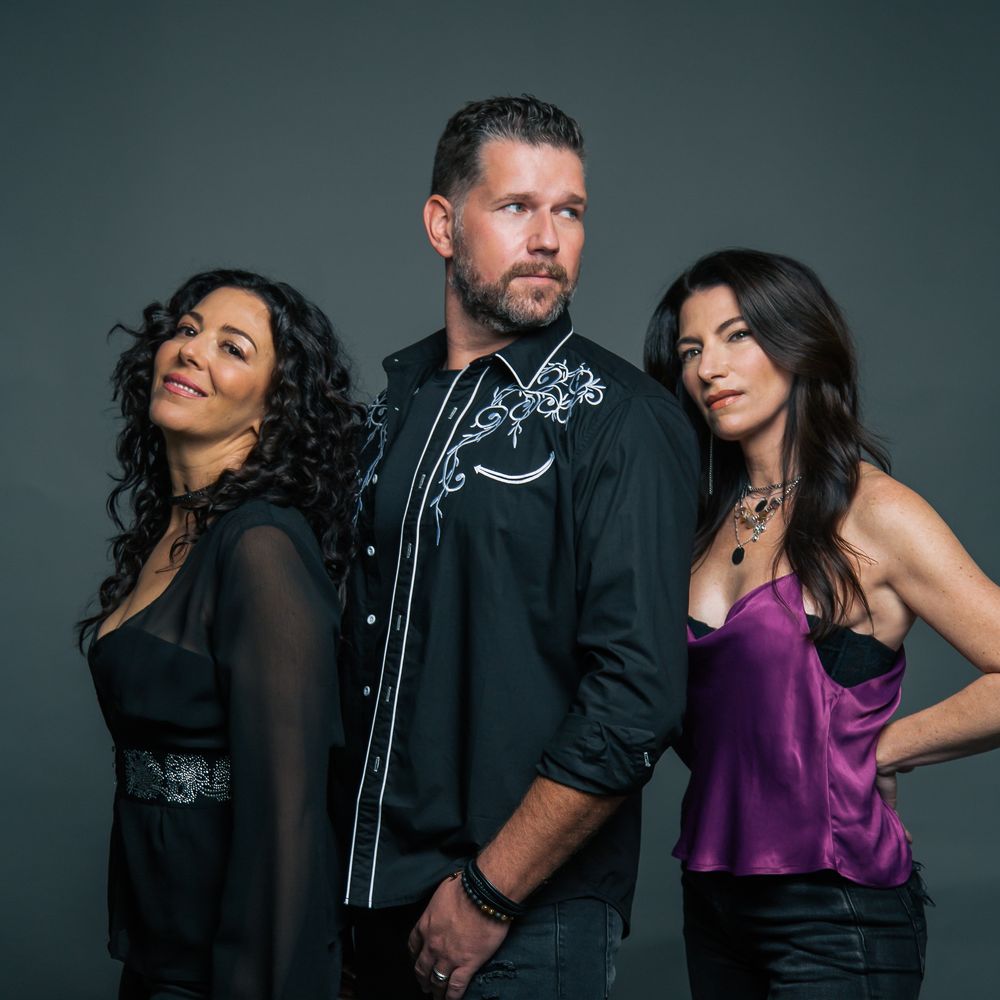 If you're craving a bit of relief from the apprehension and uncertainty of our troubled times, New Moon Junction has just what you're looking for.
With a sound that treads the line seamlessly between new and old school country, the Ontario-based trio of Barb Doran, Tamara Maddalen, and Matt Rogers, have come together at the perfect time to spread a bit of much-needed positive energy around.
There's no doubt that their debut single, 'Real Good, Feel Good Kind of Thing', does that and then some; all while expressing the joy and creative satisfaction these three solo artists have found together since they first got together in late 2019.
The need for some unbridled positivity was a primary factor in getting New Moon Junction off the ground originally, says Doran: "That was the idea right from the start. Typically, my music is quite serious – even depressing at times – but the great thing about the three of us together is that we very much focus on being positive and upbeat."
Doran, an established recording artist in her own right, had been looking to make a change in recent years. "I liked the idea of an all-female band, but I wanted to do something different, so I was trying to find two men to work with instead." Having little success finding the right mix of personalities for the project, however, soon after opening the door to both women and men she found Maddalen and then Rogers. "And when I heard their voices I was immediately like, oh my God, it's them – no doubt," she adds.
"We're all passionate about songwriting, but also about serving the song and supporting each other in that process," Maddalen adds. "There's no ego here; we all just want to have fun, grow as songwriters, and see where this takes us."
The first and most important step in establishing a viable musical partnership is finding like-minded individuals, each of whom brought something unique to the mix that challenges and complements the others; and clearly, New Moon Junction has nailed that part of the equation hands down.
All three are 'musical lifers', as Rogers puts it, but what they each have in common outside music is just as important as their shared love of writing, recording, and performing. While vocal and songwriting chops counted heavily in finding the right mix of players for New Moon Junction, being established in the music industry was far less important than being established in life. Period.
Each of them has spent years on and off stage honing their chops individually – Doran and Maddalen as country and Americana solo recording artists, respectively, and Rogers as a journeyman songwriter and live performer. But all have lives and responsibilities outside of music. "We have a professional mindset. We've all put forth effort in the regular world and the music world," Doran says. "Everyone treats their responsibilities within the band seriously, because they're old hands at taking responsibility for themselves and others."
That commonality only deepens their personal and musical bond and pushes them forward Rogers says: "That really is the feeling all the way around. We have respect for each other and the project and we're established people who know what it means to work together with others to get things done."
That fuels their commitment to the project, to the songwriting and recording process, and to what Maddalen describes as their common goal, "To grow as songwriters and singers, push ourselves out of our comfort zones and get better as artists."
Granted, the pandemic has presented some challenges to momentum, but Doran, Maddalen, and Rogers, haven't let that stop them from finding ways to work together, and – after Rogers posted the raw material for what would ultimately become 'Real Good, Feel Good Kind of Thing – getting their first single finished and down while it was good and fresh.
Although as New Moon Junction they've written numerous tunes together, given the challenges of recording safely, they wanted to ensure they'd found the ideal track to kick off the process with Multi-platinum selling producer, songwriter, and mixer Jeff Dalziel (Brett Kissel, Jim Cuddy, Lights, Chantal Kreviazuk).
From the moment the song started coming together, they all knew they had something special on their hands. "I was on a work trip last summer and sat down in my hotel room and just started playing," Rogers says. "I wrote half a verse and half a chorus and posted it, and immediately everyone was like, that's great."
"Matt's omitting some important details; as men typically do," Doran adds, laughing. "After he posted that little clip, Jeff Dalziel called him immediately and said, 'That's the one. Let's get it finished'. So that's what we did."
After polishing the song and recording rough vocals, Dalziel brought them into his home studio individually to record the final track, Maddalen explains, adding that Dalziel's ability to draw the best performances out of them, as well as the creative freedom he gave them to put their individual stamp on the song vocally, truly enhanced the final recording.
The result is a rarity, a track that sounds and feels like it's been recorded live off the floor and in the moment – an off-the-cuff quality that's hard to accomplish even when everyone is in the studio together – a testament to Dalziel's talents in the studio, and Doran, Maddalen and Rogers' uniquely striking blend of voices.
Although Doran, Maddalen, and Rogers have taken distinct paths musically and personally in establishing their voices as songwriters and performers, it's clear that New Moon Junction have a common goal – to celebrate the moments that make life worth living and encourage their listeners to do the same, which, in and of itself, is a 'Real Good, Feel Good Kind of Thing'.